Writer, Published Author,
bringing her life to the page
with pen to paper
Michelle has lived a colorful life and has always brought her life experiences to the page. The published Author of a children's book and the Writer of various plays, sketch comedies and murder mysteries, Michelle loves to move and inspire people with her writings, often in a funny, clever, relatable way.
Conversations With My Fat is the story of Michelle and her Fat and their journey losing over 100 pounds. This is a "Two person/One Woman" show.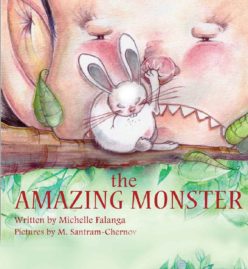 The Amazing Monster, available on Amazon.com, is the magical tale about the destructive effects of bullying and the positive effect of acceptance and friendship.
The Shell & Jape Show is a Variety Show hosted by Michelle and her favorite improv partner of 20 years – Jape Payette. The show is inspired by the greats like Carol Burnett. We are NOT Donny & Marie, but we certainly try.
Sunshine Gangsta – Web Series
Mob Father – Collaboration
Margaritas Mystery Cruise – Collaboration
Aphorisms That Hurt – Developed concept for grad show.